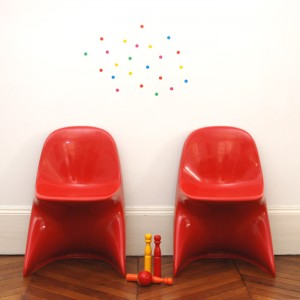 This little chair Casalino is iconic of the 70s design.

It has been edited by the German designer Alexander Begge from the original molds
of the  adultversion.
In scratch-resistant plastic, it is at the same time solid, resistant and light.
With its unique design, all in curves, the chair can easily be used by kids.
This chair model has been produced in two sizes: Casalino Junior 0 (seat 30 cm from the ground)
and Casalino Junior 1 (seat 34 cm from the ground).
The two chairs shown here are Casalino Junior 1, they are ideal for kids aged 3 years onwards.

Dimensions : height 59,5cm / width 42cm / depth 35cm / Sitting height  34cm du sol.

Shipping to France 9€90 / European Union + Switzerland 25€ (see Delivery Terms and Conditions).
Possible withdrawal at the workshop.